ITV greenlights BLM shorts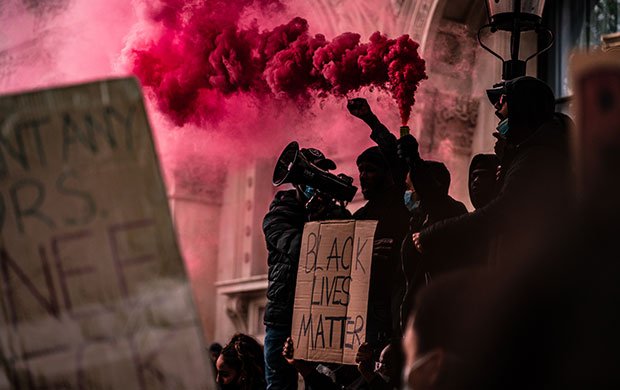 Anti-racism protestors in London last month (photo: Nathaniel Plevyak)
UK commercial broadcaster ITV has commissioned four short films inspired by the Black Lives Matter movement to air next month.
Head of drama Polly Hill has commissioned Unsaid Stories… (working title) from UK indie Greenacre Films.
The four 15-minute dramas will commence filming in London from July 27, adhering to Covid-19 TV and film production guidelines.
Look At Me, written by Lynette Linton, produced by Carol Harding (Agatha and the Curse of Ishtar, The Last Witness) and directed by Frances Annan (Escape from Pretoria, Holby City), focuses upon the lives of young professional couple Nicola and Michael and the aftermath of them being stopped by the police while out driving on a date.
Polly Hill
Lavender, written by Nicole Lecky, produced by Jo Johnson (Casualty, Ackley Bridge) and directed by Ethosheia Hylton (Dolapo is Fine, In The Silence), sees a new mother with light skin who has a baby with darker skin, forcing her to confront and evaluate her relationship with her own white mother when her latent colourism shines through.
Generational, written by Jerome Bucchan-Nelson, produced by Barbara Emile (Holby City, EastEnders) and directed by Alrick Riley (NCIS, The Good Doctor), explores the relationship between a black father and daughter.
I Don't Want to Talk About This, written by Anna Ssemuyaba, produced by Madonna Baptiste (The Stranger, Black Mirror) and directed by Koby Adom (Noughts + Crosses, Haircut), tells the story of a former couple who bump into each other a few years later at a friend's party.
The dramas will be executive produced by the founders of Greenacre Films, Nadine Marsh-Edwards and Amanda Jenks. ITV drama commissioner Chloe Tucker will oversee production for the channel.
Hill said: "I'm proud to commission four new drama shorts from Greenacre Films that reflect what's happening in Britain today. The scripts are unique, fresh and engaging, about real people in completely real situations, confronting and exploring racism and prejudice. I hope, in some small way, each of these films will bring about change."
Recent News
TBI Weekly: Six lessons from six months of HBO Max
Today marks six months to the day since WarnerMedia&...
China's Alibaba & Tencent 'held talks' to acquire rival iQiyi, ...
Chinese online giants Alibaba and Tencent have both held ...
UK's Channel 4 launches $40m content fund and unveils strategy for ...
UK comcaster Channel 4 has unveiled a new corporate strategy ...
How do you Zoom? What your virtual background says about you
TBI's favourite corporate wellness coach Tracy Forysth ...
News round-up: China extends 'Got Talent'; Daro launches AVOD streamer; Drive ...
China's Got Talent extended Fremantle and Syco ...