Cloudco's Boy Girl Dog gets second run
Broadcasters in France, the UK, Italy and Ireland have greenlit a second season of children's animated comedy Boy Girl Dog Cat Mouse Cheese.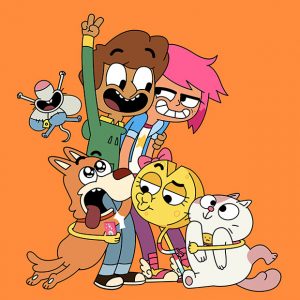 Boy Girl Dog Cat Mouse Cheese debuted last year
The 52×11' series is a copro from Cloudco Entertainment in the US, Watchnext Media in France and Ireland's Kavaleer Productions, and provides an animated comedic take on a blended family sitcom.
After S1 premiered last year, a second run has now been commissioned by BBC children's channel CBBC in the UK, RTÉ in Ireland, France's Gulli and De Agostini's DeAKids and KidsME in Italy.
Meanwhile, Super RTL in Germany has acquired the first season.
Boy Girl Dog Cat Mouse Cheese is supported in part by France's Centre National du Cinéma et de L'image Animée and Screen Ireland.
Its executive producers are Philippe Alessandri for Watchnext Media, Sean Gorman, Karen Vermeulen and Ryan Wiesbrock for Cloudco Entertainment, and Andrew Kavanagh and Gary Timpson for Kavaleer Productions.
S2's story editor is Tom Krajewski, while Mathieu Giner directs.
Recent News
Discovery unveils SVOD/AVOD global streamer, with 1,000 hours of originals
Discovery has unveiled its global streaming service Discovery+, which ...
Italy's Rai 1 remakes TV3 Catalunya format 'Merlí' with Banijay
Italy's Rai 1 has commissioned a local ...
BlackBox Multimedia and Leader Produzioni partner to adapt Chilean noir novel
International prodco Blackbox Multimedia and Italy's Leader ...
ATF: Cineflix Rights deals; SPI acquires Earth Touch docs; Network 10 buys ...
Asian broadcasters claim Cineflix deals Broadcasters in Japan, South ...
NBCU restructures Telemundo's senior execs to focus on streaming
NBCUniversal's Telemundo Enterprises has restructured its senior ...